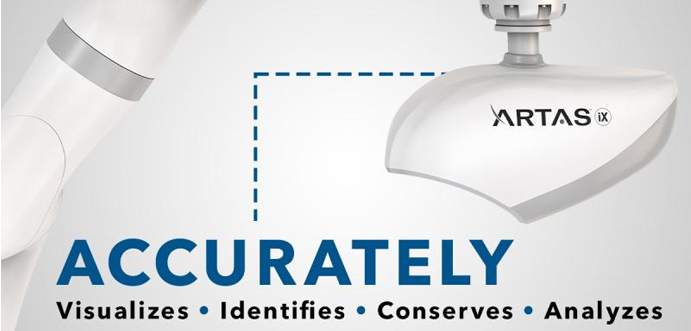 The ARTAS Robotic Hair Restoration System is the most sophisticated follicular unit extraction (FUE) technique. Known as "intelligent hair transplant technology," ARTAS uses a robotic arm and state-of-the-art artificial intelligence to select the best grafts for transplantation.
Thinning hair is something most people feel strongly about. And it affects more of us than most people realize.
Around 85% of men will suffer from hair loss at any given time. (1) What's more, there is an emotional element. Seeing hair shedding and patchiness developing on the scalp can be distressing. But the ARTAS system can provide customizable hair restoration with a minimally-invasive procedure,  minimal patient effort. and minimal downtime!
Dr. Grady Core is a leading Birmingham, Alabama FUE hair restoration specialist. He is also a leading double board-certified plastic surgeon. Using ARTAS, NeoGraft, he uniquely tailors treatment plans to help his patients attain thicker, healthier hair. Call Core Plastic Surgery at (205) 397-2100 or complete an online inquiry form to book your personal consultation to discuss advanced robotic FUE with us!
Before and After Photos
Why Hair Loss Happens
Although hair loss can occur for many reasons, pattern hair thinning is genetic. The thicker, darker hair on our scalps is known as terminal hair. Most hair loss on the scalp occurs due to a condition called androgenetic alopecia. Androgens are hormones that regulate sexual characteristics and growth. In cases of androgenetic alopecia, a disruption in the hair's growth cycle results in thinning. This disruption is caused by changes in levels of a hormone called dihydrotestosterone (DHT), which causes the follicles to shrink. (2)
To understand why hair loss occurs, and why FUE is so effective, it's important to look at the structure of the hair follicle, and the hair cycle itself.
Hair Follicle – The hair follicle is the hair shaft itself, two protective inner and outer sheaths, and the hair bulb.
Hair Bulb – The bulb is embedded in the scalp, and for the growing stage of the hair cycle, it has blood supply. Within the hair bulb are the dermal papilla and hair matrix.
Dermal Papilla – Hair grows from this highly vascularized area.
Hair Matrix – Hair growth is regulated by the hair matrix.
There are three distinct phases of hair growth, Anagen, Catagen, and Telogen. The final phase, Exogen, is when hair sheds, but new hair takes its place simultaneously, starting a new Anagen phase in the follicle.
Anagen – The active growth phase of the hair cycle, lasts between 3-5 years.
Catagen – The hair follicle shrinks and detaches in the transition phase.
Telogen – The resting phase. Lack of blood supply will lead to eventual shedding.
In cases of androgenetic alopecia, DHT and other androgens interfere with the hair cycle. They shorten the growth phase and lengthen the resting phase, resulting in premature hair loss. 
What is Follicular Unit Extraction?
Hair physicians use ARTAS and other FUE methods like NeoGraft to tackle hair thinning in the most direct way possible. Another technique, FUT, or "strip" method, was used before FUE was popularized, but this method left unsightly strips of scarring. Now, FUE is by far the most effective solution for hair loss with no linear scarring!
A follicular unit is a 1-4 hair group extracted carefully one by one in the first stage of the procedure. These "grafts" are carefully preserved before being transplanted into the treatment area. The doctor carefully reattaches grafts to follicles in the area of hair loss, a patient can stimulate hair growth in the follicle once more.
ARTAS or. NeoGraft?
NeoGraft is a handheld, manual extraction device. There is no robotic arm and the doctor relies on their manual skills to extract and graft each individual follicular unit. There are many benefits to both types of FUE procedure, however it depends on doctor and patient preference. One advantage ARTAS has over NeoGraft is that a robotic arm will never fatigue! ARTAS can also allow the doctor to carefully monitor its progress throughout the session. Speak to Dr. Core about your preferences at your personal consultation!
Benefits
The ARTAS Robotic Hair Transplant is the only FDA-cleared robotic hair transplant procedure that allows men to wear short hair.
No Linear Scar
Robotic Precision
Minimal Downtime
Permanent Results
Minimal Discomfort
Healthier Grafts
Candidates for ARTAS Hair Restoration
Most people with hair loss can undergo an ARTAS hair restoration procedure. However, there are some exceptions. Dr. Core will only recommend FUE if it is right for you. FUE may not be a good fit in the following circumstances.
Donor area hair is unsuitable for transplantation
You have a condition like alopecia areata (an autoimmune disease)
You have extensive scarring on your scalp
You have a serious health condition that could affect results
The best candidates for ARTAS are men with healthy hair in both the donor area, and the areas surrounding the hair loss. It is important to have realistic expectations before you choose FUE. That's why Dr. Core meets with every patient beforehand to get a better idea of their goals.
Personal Consultation
Dr. Core has a wealth of experience in the field of hair transplantation and follicular unit extraction, as well as being a prominent plastic surgeon in the Birmingham, AL area. Therefore, a personal consultation to speak with him in depth about your treatment is essential to get the most effective treatment plan for your goals.
He will ask you about your difficulty with hair loss, and will look at your scalp and the donor area to examine hair thickness, hair quality, and scalp health. Once he has all the relevant information, he will draw up your individualized treatment plan and schedule your procedure.
Stay up-to-date with hair transplantation techniques by following Core Plastic Surgery on Facebook, Instagram, and Twitter.
Preparation
Preparing for an FUE procedure is quite simple. You don't have to shave your head, but patients with longer hair will have to trim it shorter as and when directed to do so. Please do not dye your hair beforehand, or apply products on the treatment date. You must quit smoking entirely at a suitable time before the procedure, as directed by Dr. Core. Smoking will interfere with your recovery, slow the healing process, and may negatively affect your final results.
Avoid taking aspirin, ibuprofen and other blood-thinning medications, as these may affect your results. We will provide a list of medications to avoid beforehand. Ensure you have items to keep you occupied for the session such as a book or cell phone. We also recommend wearing loose, comfortable clothing as you will be sitting in the same position for the duration of the procedure.
Procedure
Before the ARTAS process begins, Dr. Core will administer topical anesthesia to your scalp for your comfort. Depending on the amount of follicular units extracted, prepared, and re-implanted into the scalp, the procedure will take 6-8 hours to complete. Some procedures may take longer if you are addressing extensive hair loss. Dr. Core will ensure you are comfortable and have everything you need before he starts.
Once the topical anesthesia has taken effect, Dr. Core will configure the system's robotic removal process to the correct specifications for your hair and begin the extraction program. The AI-guided robotic arm will then find healthy follicular units and harvest them. The individual grafts are then prepared and reimplanted into the area of hair loss over several hours. As this process is automated, it is both extremely accurate, and extremely reliable!
Recovery & Results
After your procedure is complete, you will be able to leave immediately afterward. In the first few days, your scalp will be tender, and you may see localized redness and swelling in both the donor and recipient areas. Dr. Core provides pain medication and antibiotics as required to aid your recovery process.
Using some caution and common sense, you can return to most of your daily activities in the days that follow. Please follow Dr. Core's written guidance on how to bathe, how to sleep, and when to resume exercise, as there will be some limitations to ensure you get the best results possible.
What is the Regrowth Period Like?
In a few weeks, you will see the grafted hair shed, but there is no need to worry – this is part of the process. The grafted hair has awakened the hair follicle it was placed into. Over a period of 2-3 months, the follicles will start to produce their own terminal hair, and a restored head of hair will be the result. Most patients will see their final results between 6 and 12 months after their procedure, once their hair has had ample time to grow.
Cost of ARTAS Hair Restoration in Birmingham, AL
The cost of FUE with ARTAS is highly dependent on how much hair needs to be harvested and reimplanted. Dr. Core will give you an estimate once he has created your individual treatment plan. Stop worrying about your hair loss and get FUE to solve the issue in a minimally-invasive way! Call (205) 397-2100 or complete a simple form to get started with your FUE hair restoration journey with Core Plastic Surgery!
FAQ
How long does ARTAS hair restoration take?
The duration of an ARTAS procedure depends on how large the treatment area is. The process is precise and usually requires between 6-8 hours to complete.
Is ARTAS better than NeoGraft for hair transplants?
Most doctors and patients have their preferences, but both are incredibly effective and minimally invasive. The best way to find out which is right for you is to discuss it at a consultation with your FUE specialist.
References
Zito, P. M., & Raggio, B. S. (2021). Hair Transplantation. Retrieved from PubMed website: https://www.ncbi.nlm.nih.gov/books/NBK547740/
Qi, J., & Garza, L. A. (2014). An overview of alopecias. Cold Spring Harbor perspectives in medicine, 4(3), a013615. https://doi.org/10.1101/cshperspect.a013615